We are a Certified Invisalign Teen Provider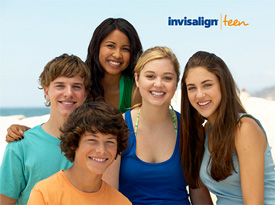 The Clear Alternative to Braces
Delaware Invisalign Teen provider Dr. Rawlins has been recognized as having achieved a significant level of expertise with the Invisalign system. This ensures that you're getting the highest level of care as well as extensive experience with this system's outcomes.
The new Invisalign Teen system straightens your teeth with custom-made clear aligners that are comfortable and practically invisible. It was developed with leading orthodontists. And it works – one million patients worldwide have made Invisalign their clear choice. See, lots of good reasons to smile.
What's so Great about Invisalign Teen?
It Fits Your Life
Sure, Invisalign for Teens effectively straightens teeth. It's designed to custom-fit your teeth and goes with your lifestyle. You also should know Invisalign offers many other benefits that make it a great choice.
Do What You Do
Because Invisalign Teen aligners are comfortable and smooth, it's easy for you to keep doing the things you want – like football, soccer, field hockey, and basketball. Or play the oboe! Invisalign Teen won't interrupt your life.
Smile…Often
Invisalign Teen is practically invisible. Most likely, the only way people will know about your treatment is if you tell them. So hang out with your friends, get in photos, and, of course, smile… confidently.
Chow down…Brush…Floss
Because you can take the aligners out, you can brush and floss normally. Plus you can eat whatever you want – pizza, popcorn… Chew gum! That's right, no forbidden foods.
Comfort
Because Invisalign Teen aligners are made of smooth plastic and move your teeth in small increments, you don't have the pain that's often associated with tightening braces. Plus there are no metal wires or brackets to poke or tear your mouth and gums. Relief!
Healthy benefits
Sure, straight teeth look great. But straight teeth also give you a healthy smile. Here are some of the health benefits of orthodontic treatment, which you can get with an Invisalign Teen smile:
Self-confidence – After your Invisalign Teen treatment, you may find your self-confidence boosted by your new smile and the change in your appearance. Some people even feel that way during treatment. As you know, smiling has many benefits. It can help you make a strong impression in lots of different social situations – at school, at work, or at a party.
Easier brushing and flossing - One of the best things about Invisalign Teen is that it uses no metal bands, brackets or wires, which may trap food and plaque. During treatment, you can take your aligners out to brush and floss normally. And no more worrying that you have embarrassing food caught in your braces. Also, dental cleanings are a whole lot easier and faster than they'd be with regular braces. Of course, when you finish your treatment, you'll have straighter teeth, so brushing and flossing continues to be easy.
Healthier gums - When your teeth are crowded or too widely spaced, you can get swollen gums and redness – signs of periodontal disease. All of that can make you less likely to smile, even when you want to make a good impression, like in photos or at an interview. Clinical studies show that when teeth are straight, the gums fit tighter around the teeth, which can lead to better periodontal health. Your gum health may improve after your Invisalign Teen treatment.
Less stress on joints - Misaligned teeth can cause painful stress on supporting bone and jaw joints, as well as cause abnormal wear on your teeth, which can lead to even more problems. The good news is that Invisalign Teen can help solve those problems by properly aligning your teeth.
Call 302.239.3531 or contact us today to get started with Invisalign Teen from a recognized Invisalign Provider for teens.