We are so excited to maintain continued treatment success through Virtual Photo Appointments and Scheduled In-Office Visits. Here's what you need to know depending on your next appointment type:
Scheduled Virtual Photo Appointments
We are operating at a limited in-office appointment capacity for your safety.
Dr. Rawlins is pleased to move your treatment success forward with a Virtual Photo Appointment using our website's pink Virtual Consultation Button.
Dr. Rawlins needs your photos at least one day before your Virtual Photo Appointment scheduled time.
How to Prepare For the Virtual Photo Appointment
At least ONE DAY BEFORE your scheduled appointment time,
visit our website at https://www.rawlinsorthodontics.com/ and click the
PINK VIRTUAL CONSULTATION + button on the left side of the screen.
Check the "I am a current patient" box, then follow the instructions for capturing your photos through the website tool. Be sure to mention any concerns in the "Comments" box.
Dr. Rawlins will review your photos and we will be in touch to advise you on your treatment progress.
We look forward to receiving your awesome photos as you LOVE • LIFE • SMILING!
_____________________________________________________________
Scheduled Office-Visit Checklist
What to do BEFORE you arrive:
Brush your teeth at home before your appointment
Do not drink anything hot or cold 30 minutes before your appointment
Everyone, including patients, must wear a mask in the office
Our bathroom is closed, use the restroom before arriving.
If you have been sick within the last 14 days of your appointment, you will need to reschedule. You will not be seen at our office until you are outside of this time frame and feeling well.
What to do WHEN YOU ARRIVE for your Appointment:
Stay in your car. Text (302) 239-3531 upon arrival; Our waiting room is currently closed.
When we are ready for you, we will text you. Walk your patient to the door. We ask that only the scheduled patient enter the office. If a parent/guardian must accompany the patient, the parent/guardian will also be required to wear a mask, utilize hand sanitizer, complete a health history form and their temperature will be taken.
Do you have an allergy to Hydrogen Peroxide? Please let us know prior to appointment
COVID-19 Pre-Appointment Required Questionnaires Link:
Shortly before your appointment, you will need to complete these 2 supplemental forms. Here is the link:
Supplemental Health History and Informed Consent Forms
The health and safety of our patients and team is the MOST IMPORTANT THING! Here is what we are doing to keep you safe and smiling: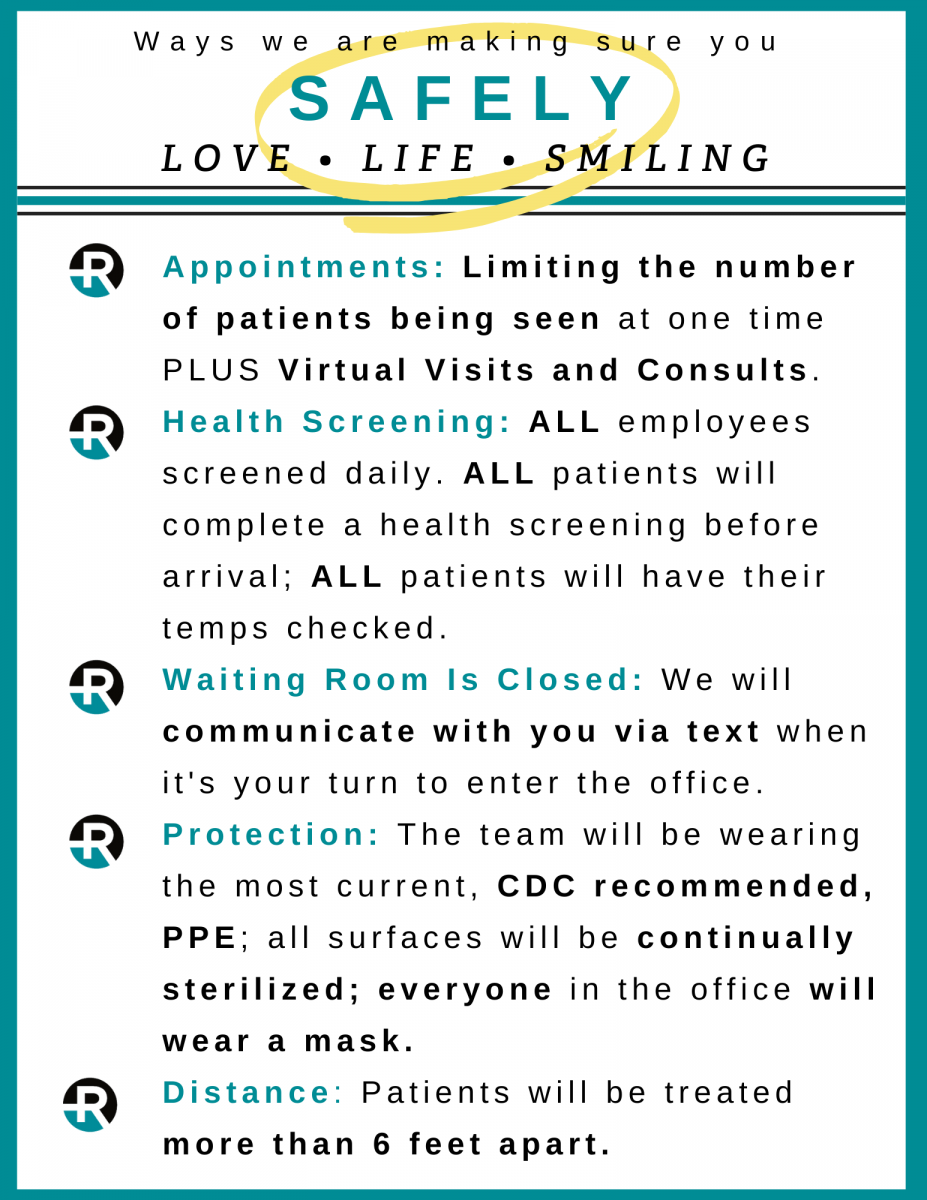 ___________________________________________________
Continued Orthodontic Treatment Success:
What you can do at home for continued success with your Invisalign, Braces, and Retainers:

​BRACES:
Please be extra careful to avoid hard and chewie things that can break the braces or cause the wires to shift.

Wax is excellent for covering a poking wire or broken bracket.

There is also an effective wax alternative called "Gishy Goo," which you can often find on Amazon.

If you are running low on rubber bands, please wear them at night time only for now. If you need more rubber bands, please call the office. We will try to mail more to you as soon as we can.
​INVISALIGN:
If you are getting low on aligners, try switching them every two weeks. If you get to the end of your trays and need backups, please call our office.
RETAINERS:
Now more than ever take care of your retainers. If they are cracked or broken, although not optimal, continue to wear them
________________________
Magnet Mania Continues!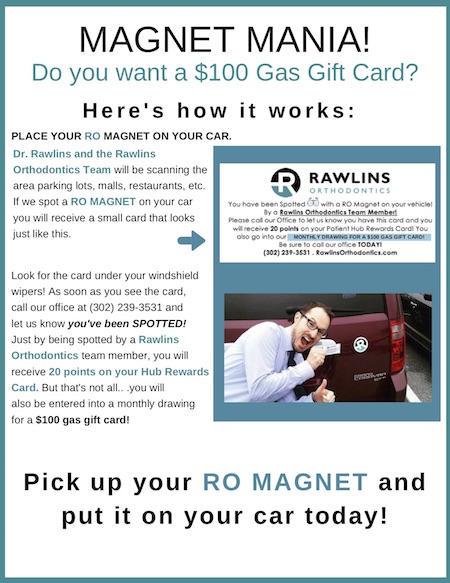 ___________________________________________
Yes, You Can!
Use your FLEX SPENDING ACCOUNT for Orthodontics!
Call us; we'll help you plan.