For Scheduled Virtual Email Appointments during the COVID-19 office closure:
(Note: This is for scheduled appointments. In the case of true emergencies involving severe pain and discomfort, please contact the office at 302-239-3531 and we will hopefully be able to assist you remotely.)
How to Prepare For your scheduled Virtual Email Appointment
THE DAY BEFORE your scheduled Virtual Email Appointment: If you have any questions related to clinical treatment or would like to share some teeth photos with me, you will submit these by email. THE EMAIL MUST BE SUBMITTED ONLY ON THE DAY BEFORE (UP UNTIL 9 PM THE NIGHT BEFORE YOUR SCHEDULED VIRTUAL APPOINTMENT DAY).
We have created a unique email address for these Virtual Email Checkups questions and photos.
Please email them to RawlinsOrthoRecords@gmail.com
IMPORTANT: Please keep in mind that when we exchange emails the information is not encrypted. This means that a 3rd party may be able to access the information and read it since it is transmitted over the internet. Therefore please include the following when sending me emails regarding treatment:
"I have been made aware of the risks of unencrypted email and provide consent for Rawlins Orthodontics to send me health information regarding my orthodontic treatment via email."
I will evaluate your email questions and photos and will try to respond within 48 hours of your Virtual Email Appointment.
DIY PHOTO SUCCESS TIPS: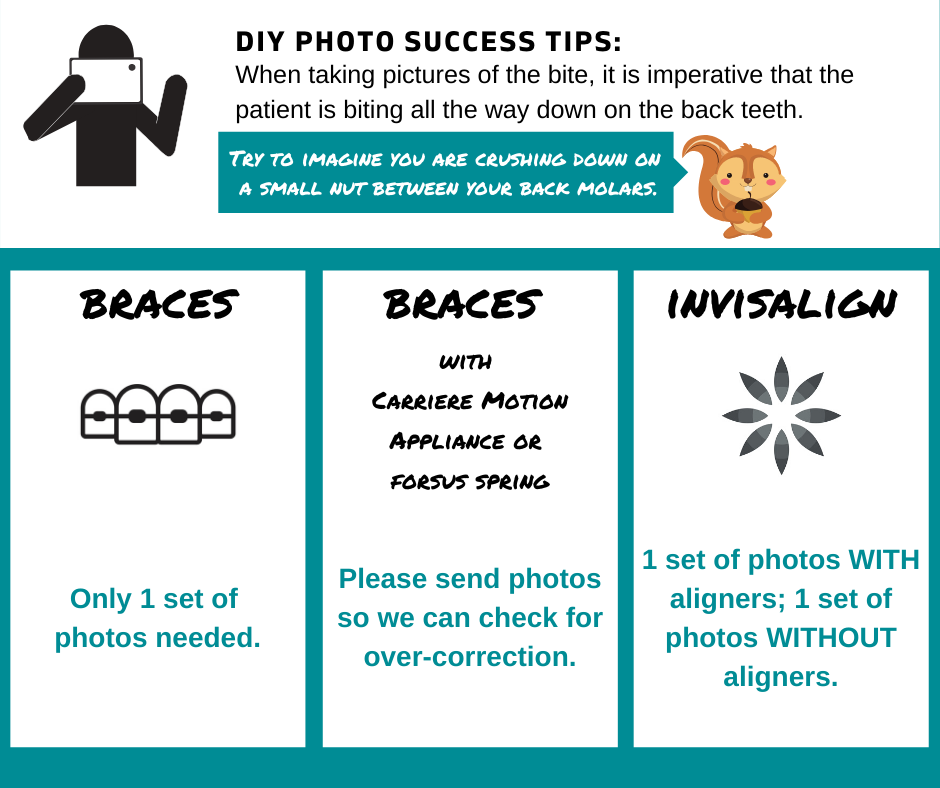 Here is a YouTube Video Link put together by one of my colleagues on how to best take DIY teeth photos at home. He does a great job explaining this.
If you are not sure if you have a Carriere Motion Appliance or have a Forsus Spring, Google these appliances to see what they look like. If you aren't sure if you have one, or just email me to ask.
The good news is that braces and aligners continue to work while in the mouth!
For Elastic Wearers:
For all of you wearing elastics 24/7, I would like you to wear them only at night when you are sleeping.
For all of you wearing elastics 12 hours or just at night time while sleeping, you may continue doing this.
Thanks!
Dr. Rawlins
We are reopening soon!
We will be in touch with you to schedule your next virtual appointment or in-office appointment. We are operating at a limited appointment capacity for your safety to be consistent with mandates and recommendations. We are grateful for your patience.
Office-Visit Checklist
What to do BEFORE you arrive:
Brush your teeth at home before your appointment
Do not drink anything hot or cold 30 minutes before your appointment
Everyone, including patients, must wear a mask in the office
Our bathroom is closed, use the restroom before arriving.
If you have been sick within the last 14 days of your appointment, you will need to reschedule. You will not be seen at our office until you are outside of this time frame and feeling well.
What to do WHEN YOU ARRIVE for your Appointment:
Stay in your car. Text (302) 239-3531 upon arrival; Our waiting room is currently closed.
When we are ready for you, we will text you. Walk your patient to the door. We ask that only the scheduled patient enter the office. If a parent/guardian must accompany the patient, the parent/guardian will also be required to wear a mask, utilize hand sanitizer, complete a health history form and their temperature will be taken.
Do you have an allergy to Hydrogen Peroxide? Please let us know prior to appointment
COVID-19 Pre-Appointment Required Questionnaires Link:
Shortly before your appointment, you will need to complete these 2 supplemental forms. Here is the link:
Supplemental Health History and Informed Consent Forms
The health and safety of our patients and team is the MOST IMPORTANT THING! Here is what we are doing to keep you safe and smiling: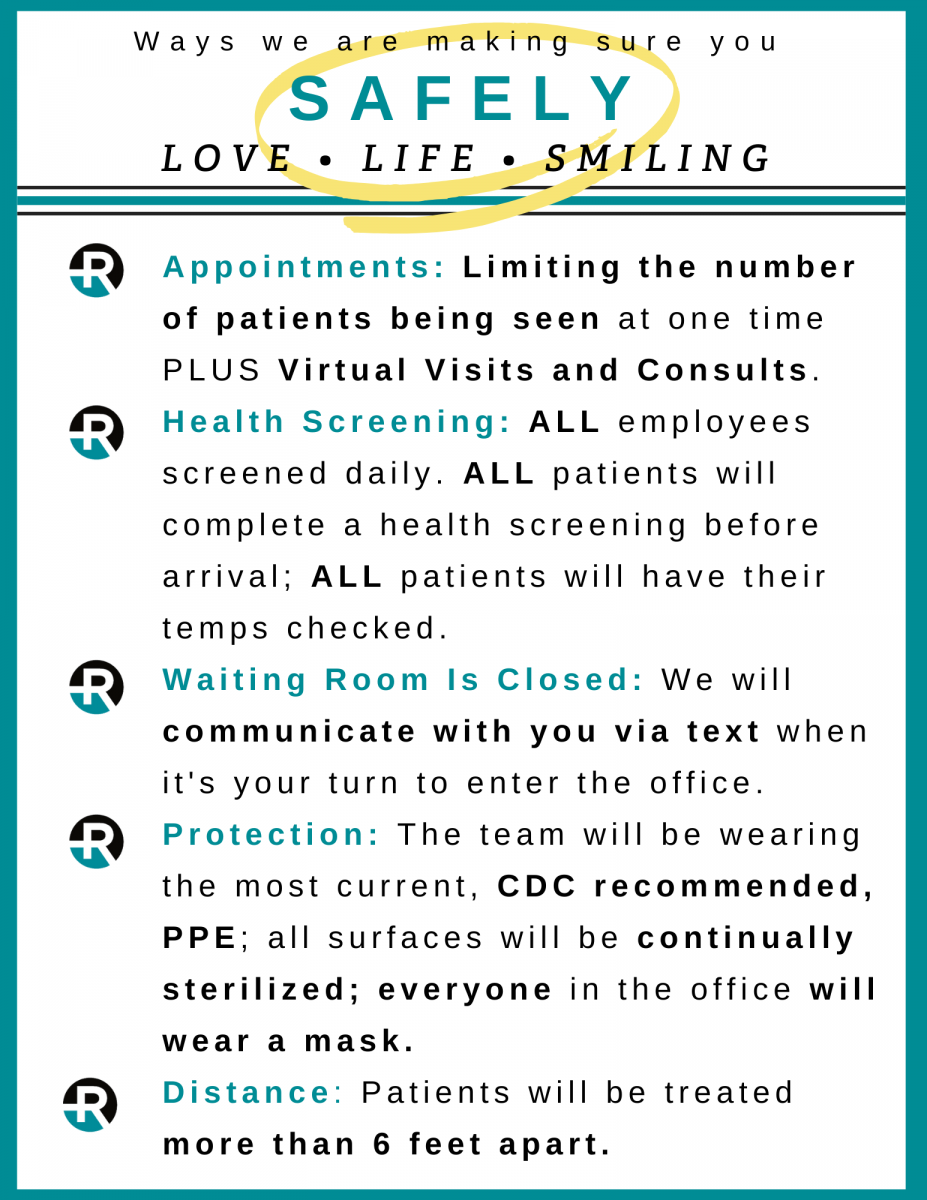 ___________________________________________________
Continued Orthodontic Treatment Success:
What you can do at home for continued success with your Invisalign, Braces, and Retainers:

​BRACES:
Please be extra careful to avoid hard and chewie things that can break the braces or cause the wires to shift.

Wax is excellent for covering a poking wire or broken bracket.

There is also an effective wax alternative called "Gishy Goo," which you can often find on Amazon.

If you are running low on rubber bands, please wear them at night time only for now. If you need more rubber bands, please call the office. We will try to mail more to you as soon as we can.
​INVISALIGN:
If you are getting low on aligners, try switching them every two weeks. If you get to the end of your trays and need backups, please call our office.
RETAINERS:
Now more than ever take care of your retainers. If they are cracked or broken, although not optimal, continue to wear them
_________________________________________

________________________
Magnet Mania Continues!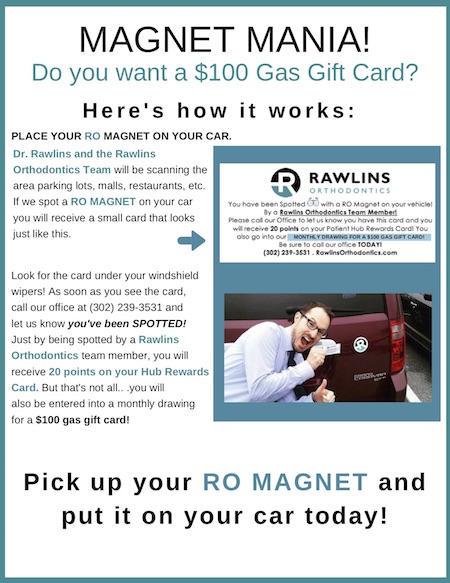 ___________________________________________
Yes, You Can!
Use your FLEX SPENDING ACCOUNT for Orthodontics!
Call us; we'll help you plan.